As a growing company, we have the opportunity to give back to the communities we serve. Norcom Cares our outreach division, partners with and participates in fundraising for national charities, as well as those in our own back yard.
Our involvement is always growing and evolving. We aim to give back, to better understand our customers, to grow our communities to be as strong as they can be, and to exercise the values of compassion and service.
Norcom employees are true citizens of their communities who are constantly encouraged to support causes that matter to them. We confirm time and time again that the core of Norcom's identity is our connection and commitment to each other. We know the public support surrounding us makes our success possible, and Norcom is driven to give back to those we serve.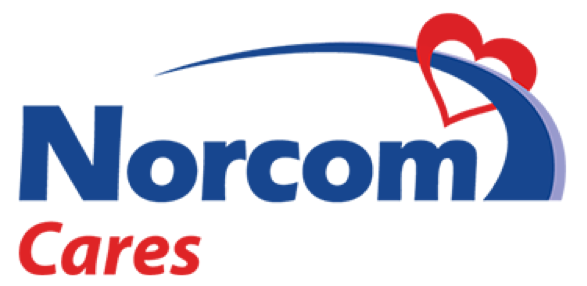 Why We Do It
Community involvement is central to our identity, and as a company with both local and regional roots, Norcom Cares finds countless opportunities to get involved. We credit our employees as the origin of our diverse volunteerism as they support the causes that matter to them.
Whether joining in events like Movember or Walk MS, or rallying for the needs of our community through events such as Focus on Canton: Walk for Hunger, we confirm time and again that the core of our identity is our connection and commitment to each other. We know the community that surrounds us makes our success possible, and we are honored to give that same gift.

Dear Phil,
On behalf of the Board of Directors of American Friends of Kenya, I'd like to thank you so much for the generous donation that we received from Norcom Cares.
I can promise you that every dollar of your contribution will be put to good use.  We are volunteer organization and the only dollars spent on salaries are to the two Kenyans we employ to do our work in the country.  Here are some examples of our impact:
EDUCATION:
AFK helps more than 300 poor, struggling village schools by sending books, promoting parent involvement, encouraging professional development, and creating networks to foster communication. The impact is amazing. AFK Network schools are making progress on national exam scores and the numbers of children advancing to the next level of education far beyond similar schools.
Two shining examples:
Rurama Primary School (Meru Country) a poor village school, had national exam scores that placed them number 38 in a 40-school district, when the school joining the AFK Network in 2009. By 2012, Rurama Primary School had risen to number 20.
Igamba Primary School a struggling rural school in Central Province, had 2008 national exam scores that placed them in the lowest tier of a 56-school district. Their 2012 scores elevated them all the way to 3rd in the district. There were several factors responsible for this unprecedented accomplishment, but by all accounts, AFK's intervention was a critical ingredient in their success.
During this same 4-5 year period, Kenyan schools as a whole did not make similar strides with exam scores. Even more impressive is the fact that hundreds of AFK Network schools have made and continue to make significant progress without large annual infusions of foreign money. The Networks draw and build on the strengths within Kenya itself.
LIBRARIES:
AFK has been a major force in library development in Kenya. We support both individual libraries and libraries of all types within institutions (from pre-school to university) with donations of materials, training and education.
AFK has shipped more than 300,000 books to our Kenyan partners
AFK volunteers from Florida raised most of the funds to construct and furnish a large community library in Thika.
AFK librarians invested time and personal resources to create catalog, label and physically organize collections for two, very successful,  girls' schools in Nairobi. One had the resources to receive and support an online database while the other currently utilizes a complete catalog card set. Today, these libraries are fully-functional due to the dedication of the librarians who maintain the collections on a daily basis and continue to remain in close contact with AFK.
One of AFK partner organizations, Meru Blind and Associates (MEBA), has started one of the first community resource centers / libraries in Kenya for people with disabilities of all kinds. AFK has shipped audiobooks and braille materials as well as associated assistive devices to help them fulfill their vision.
AFK partners with branch libraries of the Kenya National Library Service to ship all types of equipment, including books, processing materials,  and card catalog drawers. KNLS libraries also host many of AFK's annual library training workshops.
A remote, rural AFK Network community library in Siaya (Western Province), received a national honor (3rd in the country) two years after they opened their doors to the public.
MEDICAL AND HEALTH EDUCATION:
AFK plays a significant role in strengthening village and community health in Kenya. .
AFK has shipped hundreds of crutches, wheelchairs, mobility carts, exam tables and other life-saving and diagnostic devices to our partner organizations.
AFK has sent thousands of midwife kits (to ensure safe/sanitary delivery of newborns).
AFK has provided over a thousand pairs of non-prescription reading glasses for both children and adults.
AFK medical teams have worked in tandem with and provided on-site professional development for dozens of Kenyan nurses, community health workers and birth attendants.
This Friday a group of volunteers, myself included, will be loading a 40 foot container with books and library equipment, medical equipment including wheelchairs and walkers and little league equipment to send to Kenya.  It is quite a day!
Again Phil, thank you to everyone that made the decision to donate to American Friends of Kenya, we are so grateful.
Cooperatively,
Kathy
Kathy L. Chartier, CCUE, I-CUDE
President/CEO
Members Credit Union