As Norcom has grown throughout the years, it was important as a company to maintain the family atmosphere we have had since day one. This is why we believe we fit so well with the credit union philosophy of "people helping people". Our team at Norcom change lives of not only our clients and customers but also for our employees.
Our company was started with family in mind, not just in the way we have grown, but also in the way we afford families the opportunity to purchase their first home. With that said, fostering the family atmosphere isn't a requirement; its simply a product of our environment. We are more than just a team here at Norcom, we are a family.
As a member of Norcom, we would like to introduce you to our Family Values. They will demonstrate who we are and what we believe as a company. We represent each of our five values with graphic. Each value will also have an icon that is used in our Norcom Family Crest. When our employees see these graphics, we are reminded of the family we are part of and the crucial components that make us who we are.
Commitment
A commitment involves dedicating yourself to an end goal. It involves seeing a job through to the end. Be responsible. Hold yourself accountable for the task at hand. It is our unwavering devotion to each other that makes our company successful.
Respect
Respect is a specific feeling of regard for the actual qualities that we all possess. There is no room or tolerance for disrespect. Make a conscious effort to treat everyone with a sense of worth. Respect your co-workers, respect our vision, and respect our workplace. Respect is earned through your work ethic, your words, and your demeanor.
Excellence
Meeting all obligations and continuously learning and improving in all spheres to pursue the moving target. In order to achieve excellence, we must develop a winning mindset that says, "I want to be exceptional at what I do." We must be obsessed with finding a better way and to take everything we do to a higher level. It is our mission as a company to impress every client, with every opportunity, every time.
Service
Service is an integral part of our job and should not be seen as an extension of it. Our goal is to maintain constant contact with our clients, by replying to every email, and returning every phone call with a sense of urgency. We strive to continually educate ourselves in order to be a source of knowledge for our clients. Every obstacle is met with a positive attitude and a helping hand.
Teamwork
Greater things can be accomplished when everyone comes together as one. At Norcom, teamwork means individual commitment to a group effort, where everyone brings something to the table. Encouraging each other to play to our strengths and seeking assistance in areas of weakness can help us collectively achieve a common goal.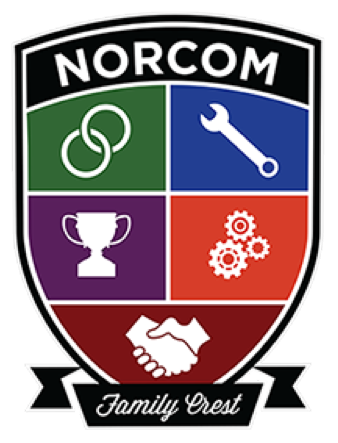 "Members Credit Union has partnered with Audra Santos for many years for first mortgages and she serves our members well. She is patient and kind and will go to all lengths possible to secure the appropriate mortgage for them. If a member does not qualify she will take the time to show them the steps they need to take in order to qualify for a mortgage in the future. Through Norcom Mortgage she has access to all types of mortgages including loans for first time home buyers and our immigrant population. We value our relationship with Audra and the value she brings to our credit union members."

Kathy L. Chartier, CCUE, I-CUDE, President/CEO, Members Credit Union